As the title implies, this blog will update you ON ALL the RR news, sounds great right? Let's start!
Don
Don's as smooth as freshly spread butter on a warm loaf of bread right out of the oven, charming and personable in any situation.
He's used to getting by on his good look and stylish clothes but to be fair he's awfully good looking and those really are some darn stylish clothes! If that somehow fails to make an impression Don's also a bottomless well of little known facts and trivia, some of which are probably true!
As a modern man in touch with his emotions, Don isn't afraid to shed a few tears when a pair of racers are eliminated from the the competition or to pontificate on their failure, waxing poetic with a moving speech.
He's a man of the people, always happy to stop whatever he's doing to pose for a fan photo or tastefully rendered romance novel cover. That's just the sort of community service that comes with being the self-proclaimed most interesting man in the world!
Whatever challenge the competitors are about to take on you can be sure that Don's previously completed it in record time!
We know this because he told us himself and I for one can't think of any good reason to doubt him. That's the smile of a trustworthy fellow, my friends, gleaming and glistening with the sparkly freshness of righteousness!
If Don has any weakness it's that he doesn't always notice when the joke's on him. I'm sure that won't ever some up during the The Ridonculous Race, though. Surely!
 ==Carrie and Devin==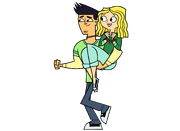 The first team being revealed is Devin and Carrie.
Best friends since early childhood, Devin and Carrie make a great team. But Carrie has a secret that Devin doesn't know about.
Will they ever be something more to each other? Will the secret Carrie has been keeping from Devin ruin their chances at taking home the prize?
Devin is voiced by Jeff Geddis, who long time Fresh fans will remember as the voice of Reef onStoked. You might also know Jeff from his live action work on shows like Flashpoint and Being Erica.
Voicing Carrie is another Fresh alumna: Kristin Fairlie! Kristin was the voice of Bridgette on Total Drama and Emma on Stoked. She has appeared on series like Flashpoint, Metropia and Instant Starand was the voice of "Little Bear" in the animated TV series Little Bear. You can follow Kristin on Twitter @kristinfairlie.
Sources
All from the Fresh TV blog, check it out!
Ad blocker interference detected!
Wikia is a free-to-use site that makes money from advertising. We have a modified experience for viewers using ad blockers

Wikia is not accessible if you've made further modifications. Remove the custom ad blocker rule(s) and the page will load as expected.