Tom & Jen
Team Profile
Members
Tom
Jen
Gender
Tom (Male)

Jen (Female)

Age
Tom (20)

Jen (19)

Voiced By
Jeff Geddis (Tom)
Ashley Botting (Jen)
Relation
Co-workers/friends/possible boyfriend/girlfriend
Occupation
Fashion Bloggers

---

1

Legs Competed
7
Placement
14th
Gallery
Link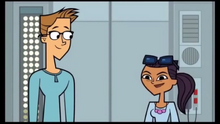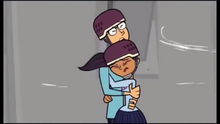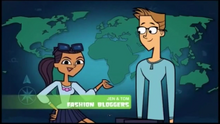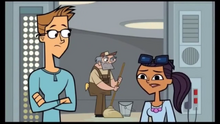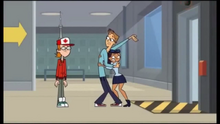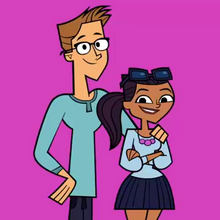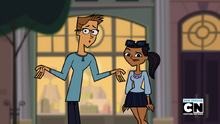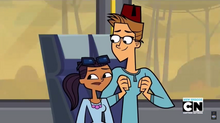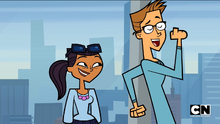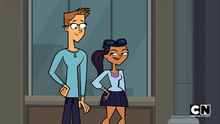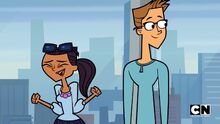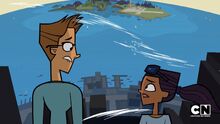 Tom and Jen are The Fashion Bloggers competing in Total Drama Presents: The Ridonculous Race.
Jen and Tom are best friends and world-renowned fashion bloggers who can't wait to see the world together. They blog every day about what's hot and what's not and are sure that their fabulous taste and trending skills will guarantee their victory.
Personality
Edit
Tom is confident and tries hard,have 16 years, but doesn't have many skills beyond understanding fashion and trends. He tends to comically overreact to failure, scary challenges, winning, losing, lattes… everything.
Is Teenager.
Jen is sweet and the ultimate fashionista. She is constantly working on her tan and often falls victim to the allure of spontaneous shopping sprees. The two have plans to go far in the Race while teaching the other contestants a little something about competing with style!
Race History
Edit
In the first episode, they were the 4th team to reach the first Don Box. After choosing scares, they argued with the tour guide about the skywalk, putting them back to flight 2.
Episodic Placement
Edit
Episode 1: 9th
Episode 2: 10th
Episode 3: 7th
Episode 4: 5th (Received time penelty)
Episode 5: 2nd
Episode 6: 9th
Episode 7: 14th (Eliminated)
Memorable Moments
Edit
In Episode 1, where they were holding on to each other so tight as if they were in love with each other.
In Episode 7, where Tom feels like he can't finish the gymnastic challenge, but Jen tells him that he can do anything because she believes in him. And on their way to the finish line Tom tells her he always whats to work with her, which shows how much he loves with her.
Ad blocker interference detected!
Wikia is a free-to-use site that makes money from advertising. We have a modified experience for viewers using ad blockers

Wikia is not accessible if you've made further modifications. Remove the custom ad blocker rule(s) and the page will load as expected.