Sanders & MacArthur
Team Profile
Members
MacArthur (right)
Sanders (left)
Gender
Female
Age
18(Sanders) 19(MacArthur)
Voiced By
Nicole Stamp (Sanders)
Evany Rosen (MacArthur)
Relation
Girlfriends
Occupation
Police Cadets

---

1

Legs Competed
26
Placement
1st/2nd
Gallery
Link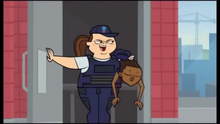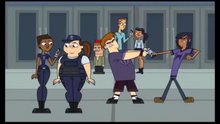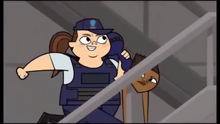 Sanders & MacArthur are The Police Cadets competing in Total Drama Presents: The Ridonculous Race.
Personality
Edit
MacArthur
Edit
MacArthur is an impulsive, tough as nails cadet who knows no fear. She isn't afraid to break a few laws or mess with other teams to get ahead.
Conversely, Sanders is all about doing things by the book. Despite her conservative and logical nature, she often finds herself unwittingly dragged into MacArthur's crazy schemes.
Race History
Episode 1: 4th
Episode 2: 2nd
Episode 3: 1st
Episode 4: 3rd
Episode 5: 11th
Episode 6: 13th
Episode 7: 7th
Episode 8: 8th
Episode 9: 8th
Episode 10: 5th
Episode 11: 2nd
Episode 12: 1st
Episode 13: 11th (Non-Elimination Round)
Episode 14: 9th
Episode 15: 3rd
Episode 16: 5th
Episode 17: 7th
Episode 18: 6th
Episode 19: 3rd
Episode 20: 1st
Episode 21: 1st (with Ice Dancers and Haters)
Episode 22: 5th (Non-Elimination Round)
Episode 23: 2nd
Episode 24: 2nd
Episode 25: 3rd
Episode 26: 1st/2nd (Winners in U.S)
Memorable Moments
Edit
MacArthur revealing that her real name is Valentina Escobar in "Got Venom"
MacArthur breaking Sanders's arm, and crying over it in "How Deep is your Love"
MacArthur using steamboats as a unit of measurement.
GLUTES
Sanders taking off her cast to grab their lost tip and continue on in the finale, leaving the Ice Dancers to be eliminated.
Sanders goes by her last name, while MacArthur goes by a fake name.

MacArthur's real name is Valentina Escobar
Sanders is the only contestant in the total drama universe to have an unknown first name.
MacArthur appears to be wearing a kevlar "bulletproof" vest.
MacArthur mentioned her babysitter once forgot her dessert, and was still plotting her revenge. She names the babysitter as 'Jennifer Masterson', a reference to the character Jen Masterson from Fresh's 6TEEN. It hints the universes are possibly connected.
The Cadets are portrayed as Good Cop/ Bad Cop, with Sanders being the good cop and MacArthur being the bad cop.
Sanders was voiced by Tv Host Nicole Stamp
The Police Cadets and Ice Dancers enemies at the race.