Rock & Spud
Team Profile
Gender
Male (Rock and Spud)
Age
18 (Rock and Spud)

---

1

Legs Competed
14
Placement
10th
Gallery
Link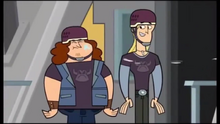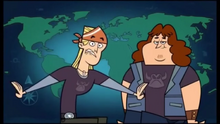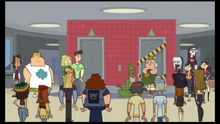 Rock and Spud, are The Rockers competing in Total Drama Presents: The Ridonculous Race.
The Race is one big party for Spud and Rock, two loveable, best friends who still haven't moved out of their parents' basement apartments (they're just biding their time until their garage band, "Devil Frog" catapults them into super-stardom).
Rock is smarter and the obvious leader of the two. Despite the party-hardy attitudes, Rock is really trying to win the Race so he can use the money to move out into his own apartment.
Spud has all the brain power and drive of a very dull sloth; without Rock, he'd be totally lost and he is just trying to remember that he's on a television competition. Spud is my bud.
Race History
Edit
Episodic Placements
Edit
Episode 1: Not Ranked
Episode 2: 9th
Episode 3: 15th
Episode 4: 13th
Episode 5: 14th
Episode 6: 14th
Episode 7: 9th
Episode 8: 11th
Episode 9: 11th
Episode 10: 12th (Non Elimination)
Episode 11: 1st
Episode 12: 9th
Episode 13: 9th
Episode 14: 10th (Eliminated with the stepbrothers)
Relationship with Other Teams
Edit
At the end of episode 14 when they and The Stepbrothers got eliminated the Stepbrothers ask if they want to play a rock game on their Gamebox and thay said yes.
Memorable Moments
Edit
When Spud did the Botch in I love Ridonc and Roll
Spud's method of catching rabbits in Down and Outback
Appearance
Edit
Spud actually has about a 2 hour reaction time delay to everything, according to Rock, in "Brazilian Pain Forest".
They and The Stepbrothers are the first team to get Eliminated in a Double Elimination Leg.