Dwayne & Junior
Team Profile
Members
Dwayne
Junior
Gender
Male
Age
13 (Junior)
39 (Dwayne)
Voiced By
Neil Crone (Dwayne)
Jacob Ewaniuk (Junior)
Relation
Father and Son

---

1

Legs Competed
16
Placement
9th
Gallery
Link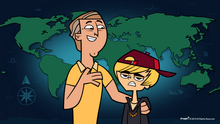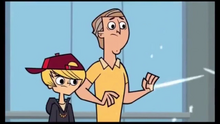 Dwayne & Junior are the Father and Son competing in Total Drama Presents: The Ridonculous Race.
Personality
Edit
Dwayne is a happy go lucky super father from the burbs with a great family and a son who's growing up too fast. He signed them up for the Race as a great way to spend some time with his son, show him the world and maybe share a few laughs. Dwayne is blessed in the good intentions department but totally lacking in street smarts. He's hopelessly ignorant about the world outside of North American life. He is also a chauvinist, due to the fact that he constantly rambles on about how men were built for some of the challenges, but this fades after meeting Kelly & Taylor.
Junior loves his dad but is getting to that age where his warm and fuzzy "so proud of you" hugs are embarrassing. He's cool with going on this trip because they could win a million bucks AND he gets to miss school. Win win! But he'd rather listen to his music than to his dad's stories about his own first trip on a plane. Junior is going to do his best to look cool while he's on TV; his dad being there to ruffle his hair does not help. As the game goes on, he tries to convince his father that he is not a kid and is growing up to be a "little man".
Race History
Edit
Episode 1: Nobody was Ranked
Episode 2: 17th
Episode 3: 5th
Episode 4: 4th
Episode 5: 8th
Episode 6: 6th
Episode 7 : 6th
Epsiode 8: 6th
Episode 9: 6th
Episode 10: 11th
Episode 11: 6th
Episode 12: 10th
Episode 13: 3rd
Episode 14: 4th
Episode 15: 7th
Episode 16: 9th (eliminated)
Memorable Moments
Edit
Dwayne gets a Maori tattoo on his chin in NZ as a failed way to impress Junior. It is pointed out many times tha he accidentally got a ladies' tattoo. At t

heir

 elimination, Dwayne joke

s that he will grow a bear

d although his tattoo is removed in the finale.

They accidentally separate in Episode 12 and nearly place last, due to a misunderstanding about family guidelines.
Trivia: 
Edit
Junior is the youngest competitor in Total Drama history at age 13. His birthday is said to be in October and was confirmed by staff to be October 28th.
Dwyane and Junior is voiced by Neil Crone and Jacob Ewaniuk, who have been voicing together since Super Why.